Geboren 1969 in Bern. Studium an der Hochschule der Künste Bern. Es folgten Engagements in Wuppertal und Jena. Von 1998 bis 2000 war sie Ensemblemitglied am Theater Basel, ab 2000 wechselte sie zum Schauspielhaus Zürich. Es folgten Engagements an der Volksbühne Berlin, der Schaubühne Berlin, den Münchner Kammerspielen, dem Burgtheater Wien und dem Théâtre Bobigny in Paris.

Eine besonders intensive Zusammenarbeit verbindet sie mit den Regisseuren Christoph Marthaler und Stefan Pucher. Auch mit Jossi Wieler, Anna Viebrock, Luk Perceval und David Marton arbeitete sie regelmäßig zusammen. 2002 wurde sie für die Rolle der Natalja in »Drei Schwestern« (Regie: Stefan Pucher) mit dem Alfred-Kerr-Darstellerpreis ausgezeichnet und im gleichen Jahr von der Kritikerjury der Zeitschrift "Theater heute" zur Nachwuchsschauspielerin des Jahres gewählt.

Zudem spielt Bettina Stucky regelmäßig in Film- und Fernsehproduktionen, wofür sie u. a. 2004 den Schweizer Filmpreis erhielt.

Seit der Spielzeit 2013-14 gehört Bettina Stucky zum Ensemble des Deutschen SchauSpielHauses. Für ihre darstellerische Leistung in »Nach Europa« wurde sie 2014 mit dem Rolf Mares Preis ausgezeichnet. Zu sehen ist sie u.a. in den Marthaler-Inszenierungen »Die Wehleider«, »Übermann oder Die Liebe kommt zu Besuch« sowie in »Richard the Kid & the King« (Regie: Karin Henkel), »Die Präsidentinnen« (Regie: Viktor Bodo) und »Der goldene Handschuh« (Regie: Studio Braun).

2019 erhielt sie den Schweizer Grand Prix Theater Preis.
Current plays
Currently without dates
Archive
person_gallery_headline
Übermann oder Die Liebe kommt zu Besuch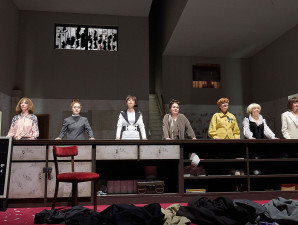 Übermann oder Die Liebe kommt zu Besuch