Junges SchauSpielHaus Hamburg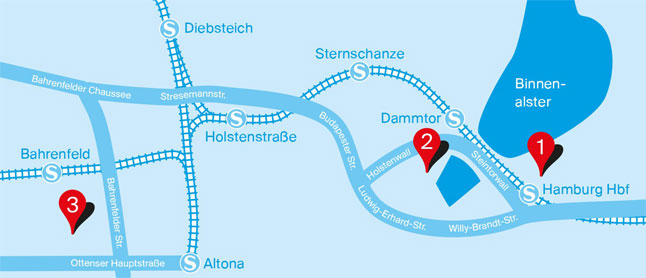 Schedule your trip to the "Gaußstraße" with Hamburg's public transportation services (HVV).
Accessibility
The access to the interim venue Junges SchauSpielHaus is only partly barrier-free:
The mains stage called has got two wheelchair spaces, which are accessible by means of a lifting gear. However, due to its load capacity it is not suitable for electric wheelchairs.
Our second stage at the Junges SchauSpielHaus is the foyer, which is accessible and has got one wheelchair space.
There is an accessible public restroom on the premises.
If you have any questions, please contact our ticket office under 040.248713 or kartenservice@schauspielhaus.de
Tickets
Tickets for the venue Junges SchauSpielHaus are available at all ticket offices of the Deutsches Schauspielhaus. The box office of our venue Junges Schauspielhaus at the Gaußstraße opens one hour before the performance starts.
Ticket Hotline: 040.24871-3
Ticket Price   13 €
reduced*        7,50 €
Group Rates    
for children/teenager   6,50 €
for children under the age of 6   5,50 €
Family Rate: For groups of three or more, one adult pays the full price and any other person only 6,50 €.
*The discount terms of the Deutsches Schauspielhaus apply.